Since 1988, InTouchPOS™ has become one of the leading Restaurant POS Systems for the restaurant and hospitality industry. Our advanced point of sale system can work in any type of operation from Quick Service, Delivery, Nightclub and Fine Dining.
InTouchPOS™ is a turn-key System and is capable of supporting unlimited users. Our point of sale products and services are uniquely flexible and can be customized to meet your specific needs.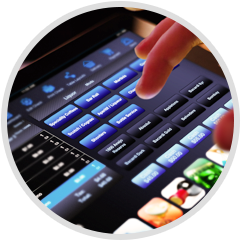 Setup, Installation
&

Training
One of the most important elements of implementing a new solution accurate Setup and Configuration of your InTouchPOS™ System. Our professionals setup and configure your hardware and software so that your new System is Turn Key and ready to take orders.
InTouchPOS™ strives to provide its customers with a professional installation.
Our Training Programs are designed to enable all levels of employees, from line employees to Corporate Staff, to be self-sufficient in using the InTouchPOS™ System.
24/7/365 Software Support
Site security settings are continuously monitored. Proactive alerts to the Help Desk allow many issues to be resolved before they impact site operations. Proper ongoing maintenance of site systems reduces the frequency of site issues. All actions taken at your site are automatically logged and tracked to a specific authorized user. The Electronic Journal function can be used to investigate transaction-related events at the site. Powerful support features allow remote support staff to quickly diagnose issues without causing additional disruption to staff and operations.
InTouchPOS™ offers hardware support for your POS System. Restaurant owners and network administrators can be overwhelmed by the challenges of supporting and maintaining their point of sale systems and infrastructure. This can drain time and resources from internal support teams, leading to deficiencies in network performance and security. We offer an annual Hardware Support Subscription that can be a more cost-effective and efficient option for Chain Restaurants.
Inventory has never been easier
While you focus on keeping your customers happy, InTouchPOS is
keeping track of every single ingredient of every item sold.
It's easy to get started with the best P.O.S.
system and the guaranteed lowest integrated payment processing rates.
Or Call Us [800] 777-8202