Why Choose InTouchOffice™ Enterprise?
InTouchOffice Enterprise focuses on new geographical tools for data visualization, enhanced data analysis and presentation in dashboards and reports, as well as greater performance and scalability when visualizing very large data sets.  Visual Analysis, which provides agile, self-service interactive data analysis, is also improved in this new release through smart layout capabilities. With these new features, users now have unparalleled support for large-scale geographical data visualization that is all backed by our proven, embeddable, enterprise-ready reporting engine.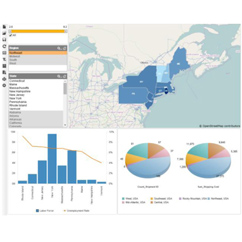 InTouchOffice enhances geographic based visualization and analysis by overlaying markers and bordered areas onto maps supported in Google Maps. Customize markers and areas by conditional colors, sizes, shapes and labels. Create map visualizations that give you a deeper understanding of the data at a quick glance. We extend traditional data analysis on static maps, where zooming and panning are common, to more dynamic methods of interacting with geographic data. Drill down the hierarchy from country to state to county. Analyze data using familiar map interfaces in combination with other charts, filters, heat maps, and crosstabs components.
Easily transform your data into rich visualization. InTouchOffice improves Visual Analysis in the way data is presented. Smart layout options allow you to scale the data in a chart by height, width or a combination of both, while automatically formatting the layout for clean presentation and easy interaction.
Quickly adjust the dynamics of your data visualization resulting in faster discovery of actionable information. Choose a data source, and drag in dimensions and measures, changing them on the fly to see your data from different angles. Quickly change a bar chart to a line chart to a pie chart and more, with a click of a button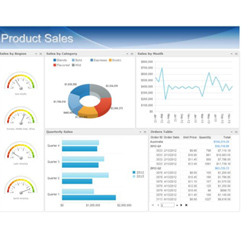 Robust charts, intuitive on-screen interactions and enhanced usability to help you get more out of your data. 40 chart types and styles, support for heat maps and scrollable real-time charts. Standard charts like bar, line, pie or scatter charts as well as bullet, scatter, bubble, and even live motion. Tables, crosstabs, and maps can also be used.
Crosstabs are now able to perform faster due to incremental data fetching and in-memory cube technology. Chart rendering and filtering on large data sets are enhanced for higher performance and scalability is ramped up for running a high volume of reports and dashboards.
You can create and interact with highly visual dashboards. Intuitive features for mashing up different components pulled in from a convenient Library. Prebuilt components can be dragged and dropped into dashboards, and you can reuse your existing reports or report components in your dashboards with flexibility to pull external resources into your dashboards and easy integration with 3rd party components like Google Maps.
Onscreen filters, slider controls, drill downs, and more can give you a more granular view of your data. Changing the course of your analysis is as easy as removing or modifying filters in a single click.
Inventory has never been easier
While you spend time focusing on keeping your customers happy, InTouchPOS is
keeping track of very single ingredient of every time sold.
It's easy to get started with the best ipad POS
system and the guaranteed lowest integrated payment processing rate.
Or Call Us [800] 777-8202