Fully Integrated, Just Like Taking an Order in the Store!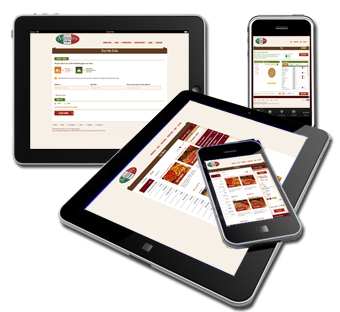 InTouchPOS™ Online Ordering comes packed with many features to help restaurants and catering companies increase their sales, efficiency, and accuracy when taking orders.
A dynamic interface constantly transmitting menu changes, customer information, customer previous orders, delivery territory information and real-time process time quotes between the store POS and the internet. Once the order is placed on the web, the order becomes a real order in the store, printing to the appropriate printer. Ordering through InTouchPOS™ Online Ordering is just like taking the order in the store.
Decrease the amount of time your crew spends taking orders
Dynamic coupons, discounts, promotions
Decrease Labor costs
Eliminate mis-communication
Increase sales and efficiency
Suggestive selling and up sell menu items based on the customer's order
E-Mail customers with promotional and specials
Allow customers to place future orders
Your site is Responsive and will resize to any tablet or smart phone
Orders are 100% accurate, because your Customer places the order
Inventory has never been easier
While you spend time focusing on keeping your customers happy, InTouchPOS is
keeping track of very single ingredient of every time sold.
It's easy to get started with the best ipad POS
system and the guaranteed lowest integrated payment processing rate.
Or Call Us [800] 777-8202