InTouchPOS® - POS System

Point Of Sale
The InTouchPOS® Point-of-Sale utilizes IBM all-in-one station with Intel's latest Technology. The Intel® Core™2 Duo, Pentium or Celeron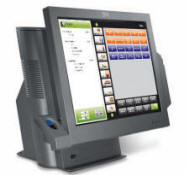 processor offers performance and speed, with lower power consumption and less heat for a more reliable processing for harsh environment. With fast processor, PCI express bus speeds, and SDRAM Memory, this point of sale station provides reliability, speed, scalability for hospitality industry.
The IBM station package includes a 15" or 17" active matrix, color, 1024X768 or 1280X1024 display. Displays offer resistive, capacitive or infrared touch screen options. The IBM station provides active matrix screen with the best possible display quality, with excellent contrast and brightness.
This all-in-one IBM solution provides integration of point of sale hardware (computer), touch screen, magnetic stripe reader, customer pole display, biometric scanner and much more. This countertop all-in-one station offers a footprint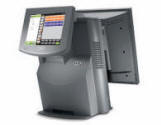 tilt mount and wall mounting to minimize counter space and maximum flexibility.
The resistive touch screen provides an accurate and fast touch interface even with a gloved hand, or stylus. The capacitive touch screen provides an accurate and fast touch interface for applications that do not require gloved or stylus input.
The IBM all-in-one station comes with multiple RS232, USB, two cash drawer ports. Upgradeability of memory (RAM) and hard drive (Storage) are the key benefits of the point of sale system. Easy access to internal part of the all-in-one station for replacement of parts.
Open Architecture
Intel Architecture
Water resistant all-in-one point of sale
Multiple storage options - SATA hard drive, USB Solid State, or Compact Flash Card
Industry standard memory (RAM), PCI Express expansion slots, and USB/RS232 connectivity
Supports multiple operating systems - Windows 7, Windows XP Pro, Windows XP-Embedded
Integrated Magnetic stripe reader, customer pole display and biometric scanner.